Flat Tummy Tea is a special detox product that contains specific ingredients designed to reduce bloating, support your metabolism, increase your energy and cleanse your body.
There are two types of tea included in the detox: activate and cleanse. Activate is the breakfast tea which gets your day off to a strong and energetic start. Cleanse is the night time tea for detoxing, decreasing water retention and cleansing your digestive system.
Due to the ingredients, Flat Tummy Tea is naturally sweet with a slight herbal taste similar to that of green or white tea. Though, they say that you can add honey or agave to sweeten it further.
Everything in Flat Tummy Tea is entirely natural and though it does help bowel movements, it's not as aggressive as a laxative.
Flat Tummy Tea Ingredients
The ingredients of Flat Tummy Tea are:
Active Tea – Peppermint (leaf), Lemon Balm (leaf), Liquorice (root), Dandelion (leaf and root), Cleavers (leaf), Fennel (seed), Green Tea (leaf), Caraway (seed), Cardamom (pods).
Cleanse Tea – Senna (leaf), Peppermint (leaf), Cassia Chamaecrista (pods), Liquorice (root), Caraway (seed), Dandelion (root), Rhubarb (root).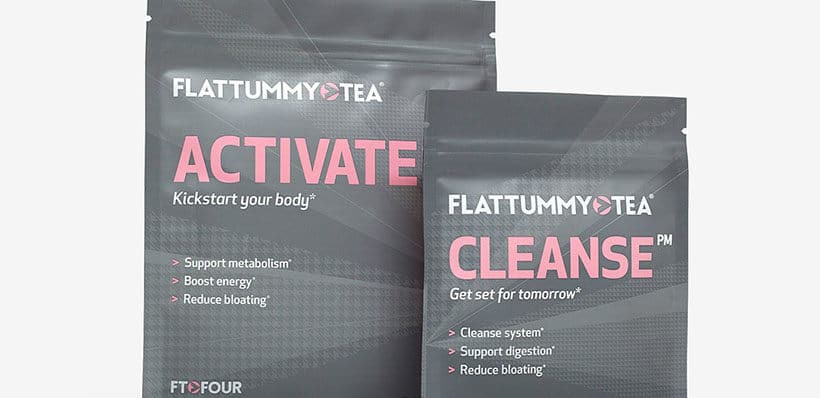 Peppermint
Peppermint is a known stomach settler that has often been used to reduce flatulence, bloating, diarrhoea, indigestion and irritable bowel syndrome. Mint and peppermint, in particular, 'calms the muscles of the stomach and improves the flow of bile' according to the University of Maryland Medical Center. This means that food can pass through the stomach quicker and easier as well as allow for painful or stressful gas to pass.
Senna
Senna is a natural laxative that is commonly used to help move stool out of the body. They work by nudging the lining of the bowel which creates a laxative-like effect. However, they are not as strong or powerful as laxatives and so are healthy to use regularly for constipation.
Liquorice Root
Liquorice has long been used for its medicinal effects, starting off in early Egypt and then moving over to China. In fact, it can help to speed repair of the stomach lining after it's been damaged from illness. It also contains various anti-inflammatory properties as well as helping to improve the immune system.
Dandelion
Dandelion is a very common detox ingredient due to its micronutrient content. The plant contains a high amount of vitamin A, vitamin C and calcium. The vitamins in dandelions help to improve the function of the liver and aid the digestive system to maintain suitable bile flow.
Cleavers
Traditional Chinese medicine involves using cleavers to reduce inflammation, purify the blood, heal the skin, decongest the kidneys and reduce water retention. This makes it perfect for a detox and anti-bloating tea.
Fennel Seed
Fennel seeds are most commonly used in soups and stews for their taste. However, they're also lesser-used in detox teas due to their effects on the body They're frequently called an antispasmodic which means that they relax the digestive tract for reduced cramps and gas.
Green Tea
Green tea is well-known for its anti-oxidising and metabolic-boosting effects. It can even improve brain function due to its caffeine content. Don't worry about getting the shakes, however, as there's very minimal caffeine compared to coffee or energy drinks.
Caraway Seed
Caraway can be used for heartburn, bloating, constipation and appetite loss as well as subtle stomach spasms. It can even be used outside of the body to rub on the skin for improved blood flow. However, in Flat Tummy Tea, it's extremely effective for relieving bloating and helping digestion.
Cardamom Pods
Cardamom is often used for intestinal gas, constipation, liver issues, intestinal spasms, heartburn and to relieve the symptoms of irritable bowel syndrome. Interestingly, Cardamom is the third-most expensive spice in the world due to all its health benefits and distinct flavour.
Rhubarb Root
Though frequently used for pies, rhubarb can be used to help with digestive troubles thanks to the various chemicals found within it. This helps the stomach to deal with gas and pain as well as reduce the symptoms of constipation and diarrhoea.
Review
Every ingredient used in Flat Tummy Tea has been shown to have some benefit for reducing bloating and gas which improves the appearance and feel of your stomach.
However, if you think that these ingredients will make you ripped and shredded with an incredible six pack and shapely lower body, then you'd be mistaken. Flat tummy tea is designed to reduce bloating so, while it does help your stomach to look good, it doesn't help you to lose fat or gain muscle. You also need to work hard in the gym and eat well to keep you looking at your best.
Flat Tummy Tea also helps you to feel good which can have a knock on effect to the rest of your lifestyle. If you're feeling happier and more confident with your body, then you're more likely to go out and engage in exercise as well as eat healthier. So, if you're looking for something extra and frequently suffer from digestive troubles, then Flat Tummy Tea can make a great addition to your lifestyle.
How you ever tried flat tummy tea?