A fit body with flat tummy increases your self-confidence in your personal life as well as in your professional life. It increases your self-esteem and makes you live your life to the fullest extent.
Maintaining an optimum weight makes you less prone to cardiac and other problems related to health. A person who is physically fit and active can easily achieve a sound mental health and get a relaxed state of mind.
In today's life, it is often seen that most of us are generally dependent on junk foods. You sometimes forget to maintain your diet and end up consuming food items that have the capability of making you fat.
In general, there are two types of people: those who eat too much and still don't gain any weight, and those who eat little and gain weight no matter what.
Your weight mainly depends on two factors:
The number of calories you consume in a day.
The number of calories you burn in a day.
Your body has multiple locations which tend to readily store the fat when compared to other locations of your body. The most victimised region is your tummy.
The Fat Accumulates Around Your Tummy Area
Men have a higher tendency of accumulating fat around the tummy area than women. Excessive tummy fat can increase the chances of developing chronic diseases. If you make poor dietary choices, then fat can easily accumulate in your body. Processed foods, meat fat, full-fat dairy products and too much-saturated fat are the main reasons for the development of visceral fat. Visceral fat accumulation varies in the case of a man and a woman.
Due to all these reasons, people are looking for various methods in how to lose their weight, especially the fat that is accumulated in the lower abdominal region of their body. You follow several diets to lose weight. You become so desperate that you even start taking weight loss pills and supplements. But they are generally not effective.
Try to follow a specific routine and stick to it. Start your day with some weight loss tea, followed by a light breakfast, lunch and dinner. Always remember to take small meals during the day so that you are never left with an empty stomach. Boost your weight loss process with a series of exercises because it not only gives you a perfect body but also provides you with a stable and healthy life.
As far as weight loss teas are concerned, there are several teas available in the market which promise to cut off your belly fat and give you a flat tummy. Some of them are discussed below.
Flat Tummy Teas
Flat Tummy Tea
It aims at cleansing your system, speeding up your metabolism, boosting the energy and reducing chances of bloating. The working principle of flat tummy tea involves two major steps and they are- Activate and Cleanse. The ingredients are made from 100% natural herbs.
The list is given below.
The Activate Flat Tummy Tea
It comes with several ingredients and includes:
Taraxacum (Dandelion) leaf and root: It has a diuretic effect and acts as a detoxifier and a digestive aid. It promotes weight loss and has various health benefits such as improving your digestive system and relieving constipation.
Melissa officinalis: It reduces your menstrual cramps and urinary spasms. Melissa in tea is essential because it reduces anxiety and induces calmness. For an effective weight loss program, sleep is very important as it improves the metabolism of your body. This ingredient reduces insomnia and improves your sleep.
Gallium Aparine (Cleavers): Besides providing several health benefits such as treating the swollen lymph glands, through diuretic cleansing the toxins and promoting a healthy immune system, it also comes with an added benefit of weight loss.
Carum Carvi Disambiguation (Caraway): This ingredient improves the digestive system and successfully reduces all the mild spasms caused inside your tummy. It reduces the fat accumulated around the tummy. It is completely natural.
Camellia Sinensis (Green Tea): It has anti-obesity effects and improves the metabolic rate of the body by burning the calories.
Foeniculum vulgare (Fennel): This natural weight loss supplement aims at helping to control weight gain.
Cardamom: It helps you to burn off tummy fat and also prevents the accumulation of fat in your abdominal region. It has no side effects and is safe.
Glycyrrhiza glabra (Liquorice): This ingredient reduces your sugar cravings. As a result, your weight is under control.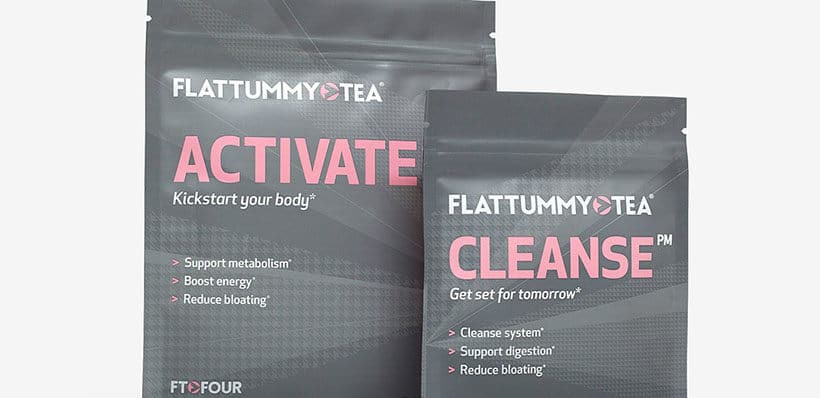 Cleanse Flat Tummy Tea
The cleanse tea also has almost the same ingredients as the activate tea. The ingredients are 100% natural.
Some of them are listed below:
Senna Alexandrina leaf and pods: This herb acts as a powerful ingredient to support weight loss. In your large intestine, there is undigested food so senna helps to eliminate those foods and toxins. With some of your weight loss diets, you may suffer from constipation. Therefore, this ingredient helps in relieving constipation and turns out to be beneficial for bowel cleansing.
Rheum Rhabarbarum (Rhubarb): It keeps your weight under control because this ingredient has high water content and very low-fat content.
Other ingredients are glycyrrhiza glabra, taraxacum roots, carum carvi along with mentha and piperita.
How Does the Flat Tummy Tea Functions?
Your digestive system must be ready for the day ahead so the ingredients of flat tummy tea help to boost your metabolism rate and make your digestive system ready. Whereas, the detoxification takes place in the cleanse step. It actively cleanses your body with all the built-up toxins and reduces water weight. Hence, you naturally get a slimmer appearance.
It is recommended to drink one cup of activate flat tummy tea every morning with your breakfast. Drink one cup of cleanse flat tummy tea every night before bed. Making the tea is very simple. All you need to do is take one teaspoon of the tea into the strainer.
Flat Tummy Tea Recipes
In order to attain a flat belly, replace your morning coffee and switch to flat tummy tea. Start your day with the healthy flat tummy tea recipe which will successfully stimulate your digestion throughout the day and retain water in your body.
Mix one tablespoon of raw apple cider vinegar to one hot cup of flat tummy tea. Add some lemon juice and if you want, you can also add some raw honey to your tea. This recipe turns out to be healthy and will boost weight loss.
Flat tummy tea, almond and blueberry smoothie. For this recipe, you have to pour over tea bags into boiling water and leave it overnight. Remove the tea bags the next day. Now blend all the ingredients together which includes two cups of fresh blueberry, fat free yogurt, dry and roasted almonds, water and the tea which you had prepared overnight. Blend until it becomes smooth. Serve it in ice-filled glasses.
Minty flat tummy tea. Take one glass of boiling water. Add two flat tummy tea bags and some freshly washed and chopped mint leaves into the glass. Keep the glass inside the refrigerator for 3 to 4 hours. After that, remove the tea bags and add honey to taste. You can also some crushed ice to it. This refreshing and delicious recipe is considered healthier than soda.
Green Tea
This is one of the healthiest beverages. The nutrient content of the green tea turns out to be effective for your body. Green tea is one of the oldest and famous means of losing weight. It removes all the toxins and cleanses your body. It easily burns your body fat and speeds up your metabolism rate. Studies show that those who regularly drink green tea are less prone to cardiovascular diseases and other health-related issues.
Ingredients of Green Tea
It has a number of ingredients which controls your weight and keeps you healthy. Some of them are listed below:
Caffeine: This bitter ingredient is used to reduce your feelings of hunger and also promotes burning of calories in your body. It helps your body to generate heat and energy when to digest your food. This stimulant acts a stress reliever.
Vitamin B, C: B1 and B2 vitamins promote the metabolism of carbohydrates. Protecting the mucous membrane, these vitamins aid the secretion of digestive fluids in the body. When you drink four to five cups of green tea a day, then you are providing your body with the required amount of Vitamin C. Vitamin C is resistant to heat, thereby the body's resistance to diseases also increases. Melanin formation is reduced.
Tannins: This ingredient adds an astringent flavour to the green tea. The antioxidant and antibacterial characteristics make tannins act as a de-toxicants.
Saponins: This ingredient has anti-inflammatory properties.
Plant pigments: Green tea has several plant pigments such as chlorophyll and yellow compounds.
Other ingredients include: Theanine, fluorine and alkalinity.
What are The Benefits?
Green tea gives the most incredible benefits.
They are as follows:
It improves your dental health: Catechins, the most common ingredient of green tea, reduces the growth of bacteria and other viruses. It improves your bad breath problem and you become less prone to caries.
The risk of cardiovascular disease is reduced: The antioxidant capability of blood is increased thereby lowering the cholesterol level.
Helps you to lose weight: The fat generally accumulates in the abdominal area. If you regularly drink green tea, then it would lead to increased weight loss.
Lowers the risk of cancers: The powerful antioxidants successfully eliminate the risk of various types of cancer such as colorectal cancer, breast cancer and prostate cancer.
Improves your brain function: Caffeine is the key active ingredient of green tea. It aims at improving your memory, mood and reaction time thus making you smarter.
Improves your health and physical function: Green tea has fat burning capability and the bioactive components prove to have beneficial effects on your health.
Green Tea Recipes
Given below are some of the green tea recipes that are completely refreshing and help you to lose your weight and get a flat tummy.
Iced green tea. This low-calorie recipe lowers the risk of diabetes. The recipe is very simple and can easily be made at home. All you need to do is boil some water and add a few tea bags of green tea. Then gently remove the squeezed tea bags from the water. Now add a little of sweetener to cold water and stir the tea for a minute. Your iced green tea is completely ready.
Raspberry green tea. Load your green tea with some juicy raspberries which can enhance your weight loss process. Add to the raspberries one tablespoon of granulated sugar to one cup of water and boil it. Keep boiling until the fruity raspberries break up. Now make one cup of green tea and add the mixture to it. Refrigerate it for one hour and enjoy the chilled drink which serves as a rich source of vitamin A and C.
Oolong Tea
Similar to green tea, oolong tree belongs to the same family that is Camellia Sinensis. But they are processed in different ways. They are partially fermented whereas green tea is unfermented. The leaves, buds and stems of this tree are used for the production of oolong tea.
The ingredient of this product includes caffeine, theophylline and theobromine. These ingredients stimulate the muscle, heart and the central nervous system. It also contains several antioxidants, minerals and vitamins like magnesium, potassium, sodium, manganese and fluoride.
Benefits
Some of the benefits of oolong tea are listed below:
Helps you to lose weight: The fat burning effect of the tea comes from the combination of caffeine and polyphenols. These enzymes used the stored fat to produce energy thereby boosting your metabolism rate.
It effectively relieves eczema: Try to drink one litre of oolong tea daily in order to reduce the symptoms of eczema. The results and improvements are long-lasting.
Promotes bone strength: The bone mineral density is increased which provides strength to your dental enamel, thereby keeping your teeth strong. It eliminates the formation of dental plaque.
Prevents diabetes: Maintains the blood sugar level. Drink 720ml of oolong tea daily to reduce the risk of developing diabetes.
Other Teas That Aims at Providing a Flat Tummy
Chamomile tea: this tea is good for your digestive system as it burns fat. The 100% natural herb is used to calm people who are under stress. Drink daily to control your weight and eliminate the risk of obesity.
Peppermint tea: It aids digestion because it quickly passes the food through the stomach. In most cases, it is seen that fat accumulates in the abdominal area. So, to get rid of this full feeling, daily drink the peppermint tea. It improves the rate of metabolism.
Ginger tea: This tea also flattens the stomach. Ginger acts as a natural appetite suppressant and reduces hunger. It makes you feel satiated which turns out to be the best way to lose weight. They are completely safe from any side effects.
No matter what, a balanced diet is necessary to keep you fit and healthy. Losing weight is impossible if you just drink tea and continue eating cakes, sugary products and items that contain fat.
Until and unless you change your lifestyle, you won't be able to achieve your goals. Eating less and eating healthier must be the key to success. Never forget to exercise.
Before spending your money on any weight loss product, always think twice because sometimes you might end up buying a useless product. Your money is always valuable. It's your choice, make the correct one.