Stair Climbers are a great way to work the muscles of your lower body whilst challenging your cardiovascular system. You may not think that it's that effective seeing as you most likely climb stairs every day, but imagine climbing those stairs for half an hour to forty minutes. The result is a lot of sweat and real burn in your legs.
This is why taking the stairs instead of using a lift or escalator is so important. Using the stairs has far more benefits than you'd think; especially when compared to just standing still. In fact, stair climbing requires 8-9 times more calories than sitting down and 7 times more calories than taking a lift.
The Benefits of Stair Climber
In reality, the stair climber might be the best way to burn calories using a lower-body focused machine. That's right, out of the stair-climber, treadmill and bike-machine, the stair-climber is a top contender for the most calories burned. An 185lb (84 kg) person can expect to burn between 180-200 calories in an average twenty-minute session. Ramp up the intensity and you can expect to burn around 150-200 calories more! A similarly weighted person can expect to burn around 735 calories in an hour climbing at a moderate pace.
Not to mention that stair-climbers also focus more on building muscle and improving your strength compared to running and jogging. Jogging is slightly more taxing on your ankles, knees and hips due to the impact of each stride. Many joggers rely on a 'bounce' with each step which can place a lot of pressure on the joints.
However, with the stair-climber, you have to rely fully on your quads, glutes, calves and hamstrings to move your body. This creates a lean and sculpted physique as opposed to simply a skinny frame.
Now, stair-climber workouts don't place a large amount of pressure onto your joints but they do place enough to provide benefit. Weight-bearing activities have been shown to strengthen your ligaments and tendons as well as your muscles.
It also helps to improve co-ordination skills and balance. This is particularly important for old age as we develop a higher risk of falling and injuring ourselves.
Though beneficial for strength, stair-climbers are technically a cardiovascular machine. Regular use of this machine can have a great impact on your aerobic capacity which will impact your other workouts.
By improving your aerobic capacity, your body can better supply your muscles with energy and nutrients which provides the means to a better recovery and more effective training sessions.
By improving our cardiovascular system, we also improve our markers of health such as reducing our risk of heart disease and diabetes, increasing our levels of 'good' cholesterol, and reducing our blood pressure. Just 30 minutes of moderately intense stair-climber workouts 4 – 5 times a week will do this.
What Muscles Does the Stair Climber Work?
The stair climber uses a large range of muscles to a high degree. Let's take a look at them all individually:
1. Abdominal Muscles
One of the biggest benefits of the stair climber is that it works the core more than a bike or the treadmill. Your abs have to stabilise your spine in order to stop you from falling over.
Your abs are actually made of three main muscles: rectus abdominis, transverse abdominis and obliques. The first is what are commonly known to be the 'abs' and are what you can see when someone has a six pack. They work to stabilise the spine and bring the pelvis to the chest. The transverse abdominis is the predominant muscle in spinal stabilisation and sits just underneath the rectus abdominis.
Lastly, the obliques are situated on the sides of the body and make the V-shape you can see in lean individuals. They stabilise the trunk, twist the body from side to side and bring the shoulders towards the hips. They all work to move your spine through different ranges of motion, but in the stair-climber, their main use is keeping you upright and steady throughout your climb.
2. Glutes
The glutes work to extend the hips. Think of when you bend over to pick something off the ground and then stand up again: your glutes bring your spine upright with the help of the hamstrings. Also, imagine laying on a table with your legs dangling off the end. Raising your legs so that you lie parallel to the ground would use the glutes.
There are three glutes: maximus, medius and minimus. The one most heavily involved on the stair climber is the maximus which so happens to be the largest muscle, too. It originates from the lower back and attaches onto the upper portion of the femur or thigh bone.
When we press our leg down to lift ourselves up on the stair-climber, we rely on this powerful muscle to help us complete the movement. Strengthening this muscle will transfer over to many other weight-bearing exercises as well as making every day movements easier.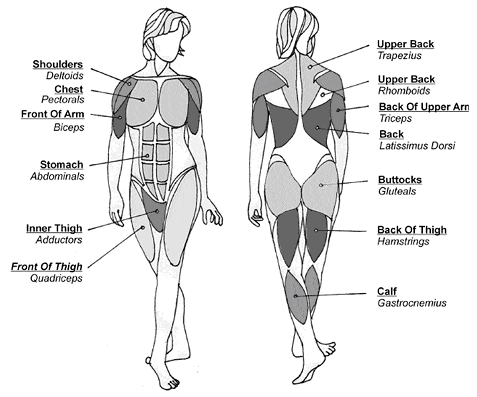 3. Hamstrings
The hamstrings consist of three muscles: biceps femoris, semimembranosus and semitendinosus which all sit on the back of your thigh. They work to flex the knee as well as extend the hips.
These are used in every lower body cardiovascular activity. Your hamstrings work to both bend your leg when you lift and extend your hips when you place it back down. They're a multi-joint group of muscles which is why they're used in every lower body movement. As you press down with your left leg, you're using your hamstrings on that side, and as you then raise your right leg to climb the next step, you're using your hamstrings on that side.
4. Quadriceps
The quadriceps are made of four muscles: rectus femoris, vastus intermedius, vastus lateralis and vastus medialis which all work to extend the leg at the knee. The rectus femoris also crosses the hip and helps to flex the spine to bring the chest to the pelvis. As they cause knee extension, when you step down, you're mainly using your quadriceps.
5. Calves
There are two muscles in the calf: soleus and gastrocnemius. The gastrocnemius is what you can see when someone has a well-developed calf. It helps to point the foot (plantarflexion) as well as mildly assisting in flexing the knee.
The soleus lies underneath the gastrocnemius and is mostly responsible for pointing the foot downwards. Imagine when you jump and you want your feet to rocket you off the floor. That's what the soleus and gastrocnemius do.
So, when you raise your foot off the ground ready for the next step, your calf has to work.
After a while using the stair-climber, your calves will feel a real burn.
As you can see, you use every part of your lower body when on the stair-climber. Lower-body exercises are also the ones that burn the most calories as they use the most amount of muscles. This is why the stair-climber is one of the ultimate exercise machines.
Stair Climber Workouts
As an exercise machine, there are only so many workouts you can complete on a stair climber. If you're new to the machine, you may want to start with a moderate intensity steady state workout. Something like a thirty to forty-minute steady workout similar to what you would do on a bike or treadmill. It can be tricky to get used to the movement if you're not used to doing it for an extended period of time.
However, there are some helpful tips and tricks you can use to hit different areas of the lower-body to a greater degree. The way in which you step can actually impact how intensely each muscle has to work.
HIIT
A great way to get the most out of your stair climber is to focus on a technique called HIIT. HIIT stands for High Intensity Interval Training and refers to the practice of going at a high intensity for a period of time followed by a low one. Alternating between these two phases multiple times has been shown to be useful for losing fat, maintaining muscle mass and improving cardiovascular capabilities.
You can use something called an RPE scale to do this. RPE simply means 'Rate of Perceived Exertion' i.e. how hard you think you're working. 0 on the RPE scale would mean that you're not moving at all and 10 on the RPE scale would mean that you're about to throw up. You want to aim for an RPE of 8 on your high intensity periods and an RPE of 2-4 on your low intensity periods.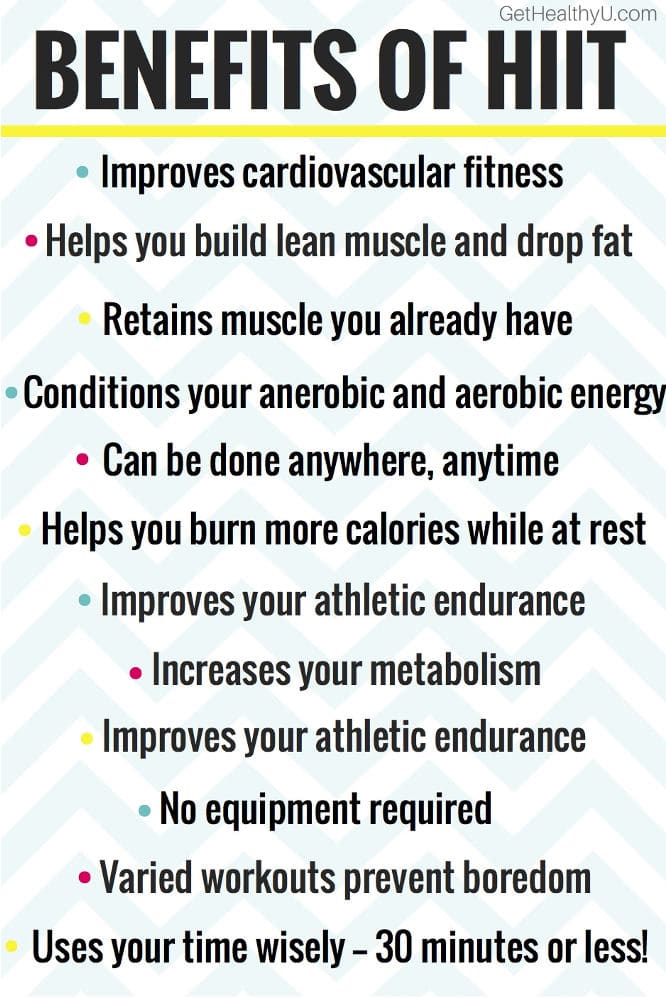 To give you some perspective, if you were running using HIIT, then you could sprint for 20 – 30 seconds and then enter into a light jog or walk for 30 – 60 seconds. Repeat this 8 times and that's your workout! On the stair climber, simply ramp up the speed and slow it down.
However, it wouldn't be suitable for beginners.
Start off with low or moderate-intensity workout.
How to Target Specific Muscle Groups
Push through your heel in order to work your hamstrings and glutes. Conversely, push through the balls of your feet to work your quadriceps and calves. Try alternating for 5 minutes between each technique for a well-rounded workout.
You can also try double-stepping (going up two steps with one leg) in order to elicit a greater stretch in the muscles and take them through a greater range of motion. This will force you to work harder but gain more strength and burn more calories. If you want to try HIIT, you can ramp up the speed and use two-stepping during the high-intensity periods, then slow down and go back to normal speed during your low-intensity periods.
Another technique is using kickbacks to target your glutes more. Lift one leg onto the step in front of you and hold onto the railings for support. Now, kick your other leg backwards and fully extend it until you reach peak contraction in your hamstrings and glutes. Do not arch your back and maintain a neutral spine throughout the entire process. You can also use side stepping to further work your glutes and provide more of a challenge. Keep your hands at your side to provide more difficulty.
It's important to note that just consciously thinking of your muscles as they work can create more results. This is called a mind-muscle connection and is what many bodybuilders use to make sure that their muscles grow more. However, you can use it for cardio workouts to make your muscles work harder and burn more calories.
Workout routine
Try this combined bodyweight and stair climber workout for weight loss, strength and endurance:
You can adjust this according to your goals. For instance, if you want to focus more on your glutes, then you can use wider steps launching off the heel of your foot.
If you want to focus more on your quads and calves, then use normal steps pushing off the ball of your foot. Simply increase the speed or use double steps to ramp up the intensity. Also, feel free to add in more upper body exercises targeting your weaknesses.
The benefits of using the RPE scale is that the workout is automatically tailor made to your individual needs.
For beginners, I advise to do only steady, moderate intensity stair climbing. Get some training experience and only then go to the next level.
Don't compare yourself to others: just compare yourself to you. Always remember where you've come from and keep this in mind when you have a tricky workout.
Conclusion
The stair-climber is fantastic machine to add into your exercise routine to challenge your lower body and cardiovascular system.
It's an all-round machine that will help you to maintain muscle and co-ordination all whilst burning fat and getting leaner. It may be hard at first, but the results will come with patience and dedication. Stick with it and you'll be on your way to a happier, healthier you!