The bench press is one of those movements with seemingly endless alterations and variations. There's the close grip bench press, wide grip bench press, floor press, dumbbell bench press, incline, decline, banded, chained, paused, and many, many more. Today, we're going to look at the reverse grip bench press.
What is the reverse grip bench press?
If it isn't already obvious, the reverse grip bench press involves taking the opposite grip to how you would normally. The most common version of the bench press involves the palms facing down your body whereas the reverse grip calls for you to externally rotate your forearms so that your palms are facing towards your chest. Essentially, you're in the same position as a barbell curl except for the fact that you're lying flat.
What areas of the body does this target?
In the same fashion as the normal bench press, the reverse grip primarily targets the chest muscles with an additional stimulus being placed upon the shoulders and triceps. Though, the reverse grip bench press also hits the upper pec harder, especially when moving the hands slightly wider than shoulder width. By placing the hands outside of the shoulder spacing, you get less activation in the triceps and more in the upper chest. It's best to start learning the standard reverse grip bench press at shoulder width before progressing into different grip widths.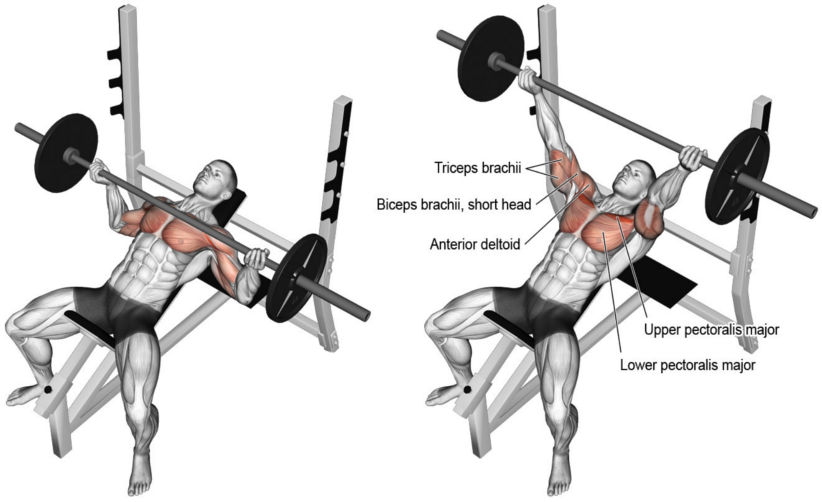 What are the benefits?
The most common predicament with the standard bench press is that it could create joint issues for the shoulders and elbows. By reversing the grip, you take some of the strain out of these areas and placing more emphasis on your musculature.
If you bench press frequently (2-3x per week), then there are chances you'll run into some sort of shoulder pain more easily. At this point, many people will move onto a close grip bench press. Yet, this doesn't fully take the strain away and can lead to further issues for the elbow and forearm. By changing one of these sessions to a reverse grip bench press, you can help alleviate the joints whilst continuing to improve your overall strength and size. This means that you'll be able to bench press harder, for longer in your fitness career.
How do I do it?
Set yourself up in the same way you would for your normal bench press lying against a bench. Next, take a shoulder width grip with the backs of your hands facing down your body. Press the bar off from the pins and maintain control as the bar lowers towards your sternum. From here, press upward and make sure to keep your elbows underneath your wrists.
It really is as simple as doing the same movement, just with a different hand placement.
You can perform exercises with dumbbells or a barbell.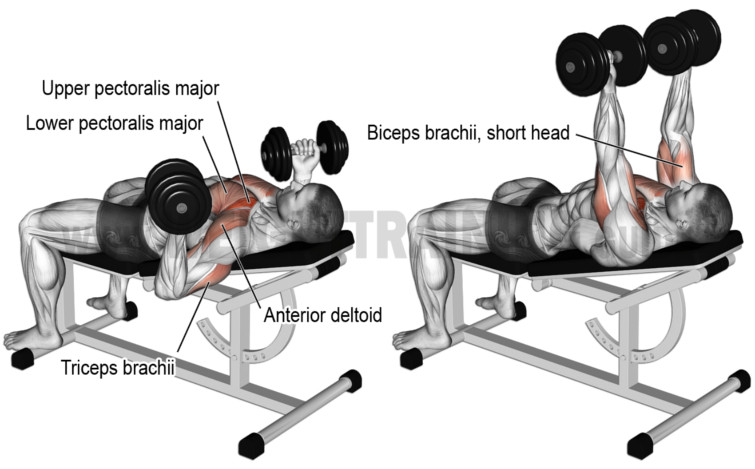 Is there anything I need to worry about?
The main issue with the reverse grip bench press is that individuals can feel like they need to engage their biceps. This isn't the correct muscle to use for this exercise. Make sure to establish a mental connection with your triceps, chest, and shoulders to avoid this from happening.
How can I use the reverse grip bench press in my training?
As this will be a different movement for most people and a variation on an exercise that's drilled into their heads, it can be tricky to do at first.
The best course of action is to start by using the reverse grip bench press in your warm-up sets, alternating between the reverse grip and the standard grip. This means that you can slowly get to understand the movement without using too much weight.
Once you feel comfortable, start using it as an accessory lift. If you immediately hop into it as your main lift, then you can get too eager and bring about more injuries. When learning any new movement, it's best to complete high reps at a low weight to really get in the practice 3 sets of 12-15 should be perfect. You can still take the movement to near failure, just make sure that every rep is near perfect in form. There's no point sacrificing your form for an extra rep as that extra rep could be too much and cause a more dramatic setback for your training.
As you grow more familiar with the lift, then you can start substituting it for one of your standard bench press days. This will allow you to progress in two different lifts simultaneously, of which both will supplement the other and create a course of action for preventing joint pain.
You will also want to make sure to use a spotter when first doing the exercise as unracking the weight will feel completely different.
What do you think about the reverse grip bench press?