Calves are a nightmare for many gym goers simply because of how stubborn they are. They may be small, but they're a very noticeable muscle group. Therefore, many bodybuilders make them a priority when training. In this article, I will look at the main aspects of calf training that you need to pay attention to in order to create growth. You may not have even thought of some techniques – such as the difference between seated and standing calf training.
Structure and functions
There are many muscles surrounding the lower leg that are divided into two layers. We will be paying attention to the triceps surae muscles which most people refer to when they talk about the calves. This muscle has three heads divided into two muscles: the two-headed gastrocnemius and the single-headed soleus. The gastrocnemius muscle is located at the top of the calf and can be easily seen. The soleus muscle sits beneath the gastrocnemius.
Both muscles are attached to the heel by the Achilles tendon. The most important function of these muscles is to pull the heel up. They help participate in activities such as walking, running, jumping, climbing and simple everyday activities. As these muscles are the largest and most visible in the lower leg, they maintain a high priority among gym goers.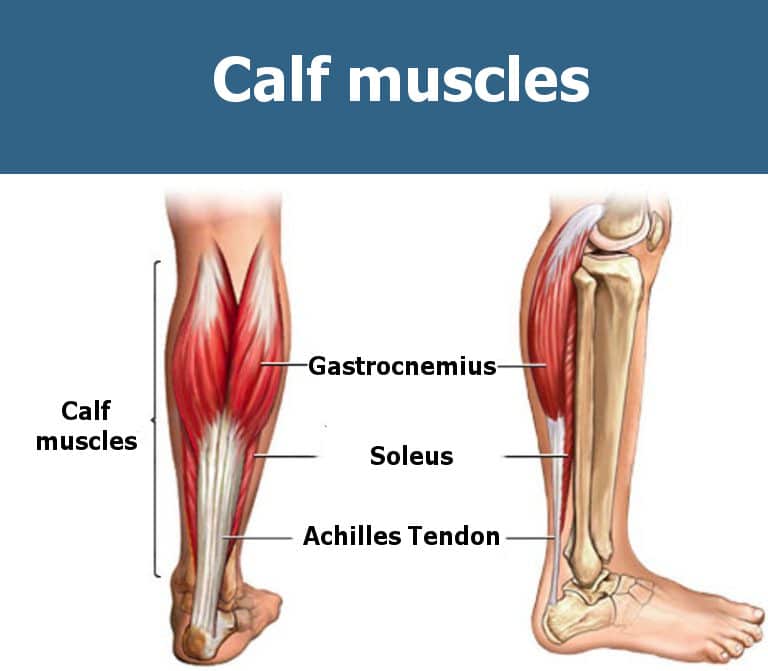 Who is Calf Training Most Important For?
In my opinion, there are three different situations:
First, if you have well developed calves without training, then you won't need to train them often. The calves are loaded in other leg exercises such as the squat, leg curls and the deadlift. If you do these exercises, then there will be enough stimulus for the calves. However, sometimes the calves accumulate a lot of fat so please don't misunderstand fat with muscles.
Second, if you have long but not big calf muscles, then you can use training to enlarge them. The longer the muscle is, the greater the opportunity for it to grow. Actually, this is also true for other muscles.
The third situation is also the most common. This is when you have short muscles with less muscle fibers which causes very slow and hard progression. Unfortunately, this is hard to change as it's due to genetics. Maybe you will have strong, but not large calves. However, if this is the case, don't give up.
Training
Remember that you need to train both the gastrocnemius and the soleus muscles. The gastrocnemius muscle works better in a standing position (knee angle at 180 degrees), but the soleus is more engaged with bent knees (about 90 degrees) in a seated position. Both of them play a role in the increase of overall muscle mass. Therefore, perform exercises in both standing and seated positions. Many don't know this fact and therefore only exercise in a standing position.
All exercises should be performed with a full range of motion with a pause at the top of the movement. During the exercise, put your foot on a platform. This will help to achieve a better stretch in the muscle and also a better contraction. Only completing a partial range of motion doesn't give you as many advantages. After each workout, you need to stretch your calves, too.
We use our calves in daily activities which allows them to get used to light loads over a long time. Therefore, training loads should be the opposite: short in duration and heavier in weight. For calves, it is often recommended to complete higher repetitions as theoretically the calves contain more slow twitch muscle fibers. As we know, they're more responsive to long-term loads. In addition, we tend to perform calf exercises with a shorter range of motion compared to other muscle groups. This means that they need more repetitions in order to achieve the same amount of progress in the muscle. Imagine the size difference after 6 repetitions of squats compared to 6 for a calf exercise. This also means you have to spend a lot more time training the calves. From that point of view, you can see why you might need to do a lot of reps.
On the other hand, we need to train both the slow and fast twitch muscle fibers in order to surprise this stubborn muscle. Arnold Schwarzenegger recommended training the calves with heavy loads. Sometimes, you just need to experiment and change. Therefore, I recommend a wide rep range from 4 to 30. Don't be afraid to train the calves up to 3 times per week doing one exercise each time. The main thing is to make sure you monitor your progress.
Experienced athletes can use advanced intensity techniques such as drop-sets, super-sets, rest-pause etc. It's also a good idea to change the position of the foot whilst performing the exercise. This can help load the calves from different angles. You just have to think how to surprise the calves and there's always a solution!
For women, calf enlargement tends to be a beauty or fashion choice. Some women like big calves, some do not. So, it's your choice as to how far you want to go with training them.
Here are some examples of well-known calf exercises:
Standing smith machine calf raise; single-leg standing dumbbell calf raise; donkey calf rise; seated calf rise. Each of these exercises has many possible modifications depending on the available equipment.
If you're not interested in muscle mass and simply want to strengthen your ankles, then you may want to choose other exercises. In this case, you'll need to load other lower leg and foot muscles additionally. This will be more important to team sport and track and field athletes. If you fit into this category, then you'll want to look for more specific workout routines.
Workout
For beginners, one exercise is enough: repetitions: 15-20, sets: 2.
Example:
Single-leg standing dumbbell calf raise 2 sets of 15-20 reps.
For experienced athletes, your training will depend on the size of your calves. The smaller the muscle you have, the more you'll need to train them. Therefore, you'll need 1-4 exercises for 2 – 5 sets with 4 – 30 reps per set. It's normal to train up to 3x per week, performing 1-2 exercises each workout.
Example of 3x per week calf training:
Monday
Smith machine standing calf raise 4 sets of 6-12 reps.
Wednesday
Seated calf rise 4 sets of 15-20 reps.
Friday
Single-leg standing dumbbell calf raise 3 sets of 10-15 reps.
You can also perform all three of these exercises on a single day.
What about split training?
There's no reason not to train the calves with any other muscle group. The only thing that wouldn't be advisable is to train the calves just before heavy squats which could negatively impact your stability during the movement. Usually, athletes like to train their calves at the end of the workout. However, you can change the order of the exercises according to your priorities.