If you're looking to build yourself a powerful, Adonis-like lower body, then some variation of a squatting exercise will be absolutely essential. In fact, squats have proven to be one of the most effective exercises in general, and they are very much in fashion at this present time. Whether you're looking to build mass, improve your strength and power, strengthen your core, tone up, or just simply avoid chicken leg syndrome, squatting exercises are very beneficial indeed.
However, recently there have been many a heated debate sparked regarding which form of squat is actually considered the most beneficial. Some gym-goers are adamant that tried and tested back squats are the ultimate exercise, whereas there are others who are convinced that it is front squats. In an attempt to clear this debate up once and for all, here we'll be taking an in-depth look at front squats versus back squats, and will be weighing up the various pros and cons associated with each subsequent exercise. So, without any further ado, let's get to the bottom of which form of squat can be considered as Top Dog.
Back Squats
To begin with, we'll start with back squats. Back squats are generally considered the more common form of squat of the two, but that does not necessarily make them the best. The back squat is the original squat master, and is hugely popular amongst all kinds of health and fitness fanatics. Back squats are a bodybuilding staple, they are essential for powerlifters, for strongmen, for general athletics, and for people looking to build what is now widely known as a 'squat booty'.
Back squats require the practitioner of the exercise to place a plate-loaded barbell on their upper backs, so that it rests on the trapezius muscle. Next the practitioner should bend through their knees and their hips until they break parallel. They will then return to the original starting position and, if required, will then repeat the squatting process and squat down with the barbell again, until the desired number of repetitions has been achieved. Back squats engage your posterior chain muscles, so your glutes, quads, hamstrings, and calves all benefit.
Advantages of back squats
There are many advantages and benefits associated with back squats, including the following:
Great compound exercise – Back squats recruit multiple muscle groups simultaneously whilst being performed, including those found in the legs, and in your core stabilizer muscles. For all-round muscle and strength gains, back squats are ideal.
Easier to squat heavy – When it comes to weight, it is easier to use for weight whilst back squatting than with front squats. This again is because you can adjust hand positioning to generate more power, plus you can also distribute the weight more evenly as you can sit back on your heels more easily.
Better for individuals with limited flexibility – If you're not as flexible as you could be, back squats are ideal because they require less overall flexibility than front squats. What's more, due to the mechanics of the lift, the more you back squat, the more flexible you will become. This will eventually open up the possibility of performing other variations of the squat.
Potential drawbacks
There are however, a few potential drawbacks associated with back squats, and these include:
More stress on the lumbar spine – One real danger associated with back squats is that they can place more stress and compression on the lumbar spine if poor form is executed. This can result in painful back injuries.
Front squats
Up next we have front squats. Front squats are like the little cousins of back squats, but don't let that fool you, because front squats are still equally as brutal, and equally as effective in their own right. The main difference between these two squats is of course the positioning of the barbell. To perform front squats, the barbell is rested in front of the athlete, on their shoulders with their elbows upwards slightly. The barbell is then squatted from a front rack position, rather than being rested on the upper back as with back squats. Typically, front squats are harder to perform than back squats, and due to the mechanics, lighter weights are almost exclusively always used.
What are the advantages of front squats?
Front squats offer a number of advantages for users over back squats. Some key benefits include:
Safer for the spine – Spinal injuries are a very real possibility when it comes to squatting, especially with poor form. The good thing about front squats is that they can prevent curving in the spine because the torso must be kept upright at all times to perform the exercise.
Great for working on the quadriceps – For those looking to target and emphasize the quads, front squats are very beneficial because the mechanics of the lift means that greater stress is placed on these muscles so you can target them easier than other muscle groups.
Better for the knees – Whilst there is always a risk of damage to the knees whilst squatting, experts have found that front squats are considered better for the knees than back squats. This is because front squats make it easier to sit on your heels, and place lower compressive forces on the knees, due to the naturally lighter loads that front squats use.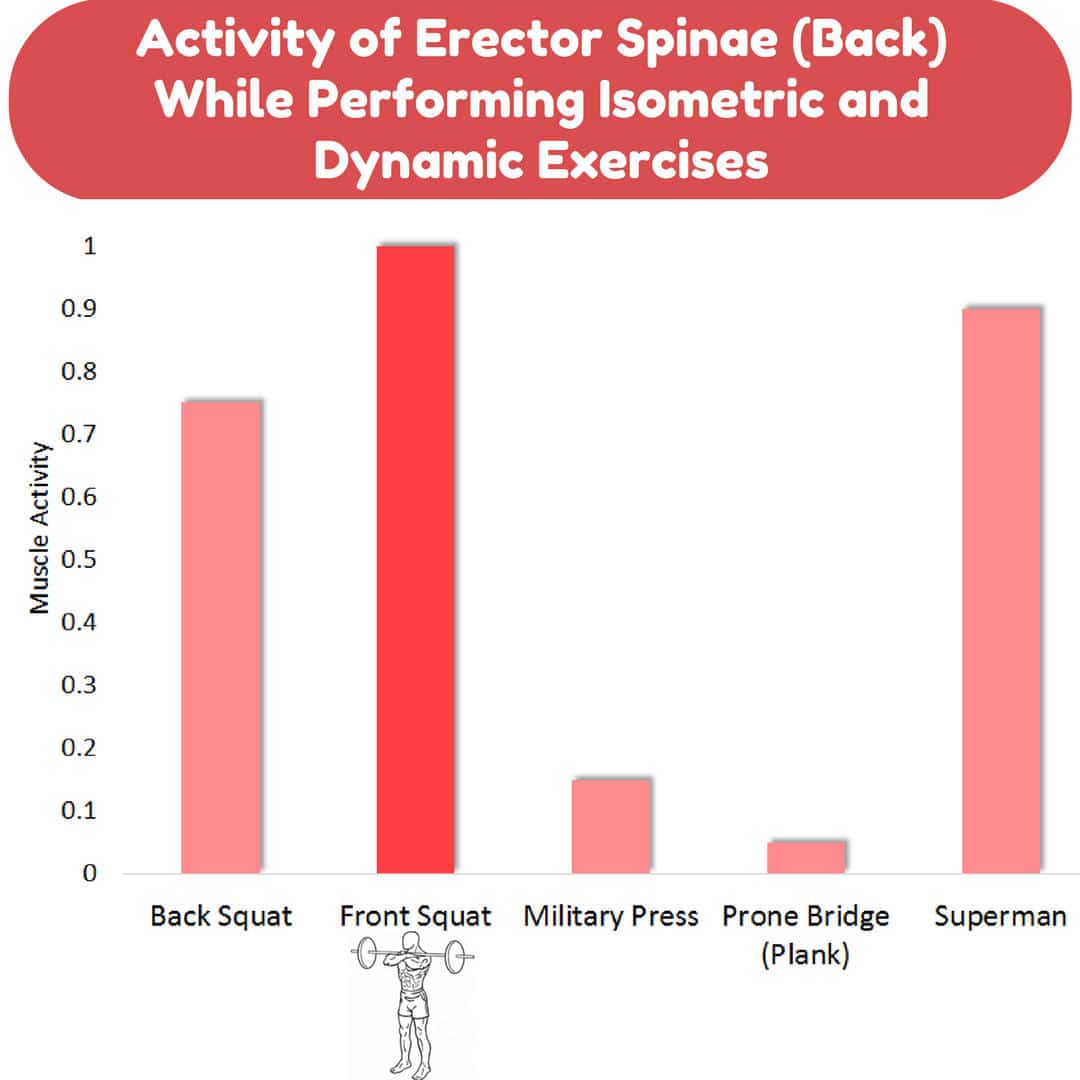 What are the potential drawbacks?
Now we'll look at some things that are not quite working in the favour of front squats. These include:
Requires good flexibility – If you are not the most flexible, especially in the shoulders, ankles, hips, and wrists, front squats are out of the question as they will be too dangerous. As your torso must remain upright at all times to perform this exercise, you cannot cheat, even slightly, as you can slightly get away with when doing back squats. If you are not flexible enough, too much stress would be placed on your joints and you would be in very real danger of serious injury.
So, which is the best?
Well, sorry to burst your bubbles but in actual fact, there is no right or wrong answer in regards to which form of squat is the best. It all depends on your personal circumstances, abilities, and goals. For example, if you suffer with lower back problems, front squats would be considered more beneficial because they can prevent curvature of the spine, which obviously means that back injuries are less likely. For people looking to put up more impressive numbers in the gym, such as those involved in strongman and powerlifting, back squats could be considered more beneficial because they allow for much greater progressive loads.
The bottom line here is that they're both great, so either choose a variation that best suits your goals and circumstances, or better still, find a training regime that allows you to incorporate both variants so you can enjoy the best of both worlds.