Looking for healthier alternatives to sugar? Want to cut calories and enjoy better health?
If so, you've made the right decision! From stevia and honey to dark molasses, there are plenty of options available. These natural sweeteners are packed with antioxidants and minerals that will boost your energy, keep your brain sharp, and protect against oxidative stress.
Sugar, on the other hand, affects your immune system and increases the risk of heart disease, insulin resistance, obesity, diabetes, metabolic syndrome, and other chronic diseases. This popular ingredient has been called the white poison for a good reason.
The Hidden Dangers of Sugar
The average American consumes from 20 to 30 teaspoons of sugar per day in the form of soda, cookies, and processed foods. Soft drinks are the primary source of sugar for most adults.
According to health experts, drinking just one cup of soda daily can lead to an excess weight gain of up to 15 pounds in one year. Sugar consumption has been linked to a higher risk of cardiovascular disease, elevated blood pressure, liver disease, tooth decay, type II diabetes, and premature death.
This harmful ingredient taps into our innate preference for sweet taste, causing addiction. Actually, it's eight times more addictive than cocaine and has no nutritional value. Sugar contains nothing but empty calories. In the long run, it can overload your liver, affect insulin response, and cause cancer.
A diet rich in sugar may disrupt your hormonal balance and trigger major changes in the satiety centers of the brain. As a result, you'll feel hungrier and consume more calories without even realizing it.
Researchers agree that sugar is one of the main factors responsible for the obesity epidemic. Thus, it makes sense to seek healthier alternatives and ditch this toxic food from your life.
How to Choose the Best Natural Sugar Substitutes
Nowadays, sugar substitutes are widely available. Agave nectar, maple syrup, honey, brown rice syrup, date sugar, and coconut sugar pack a lot of nutrition and have none of the side effects associated with refined sugar.
However, they do contain calories and carbs, so you still need to watch your portions. Stevia, an all natural sweetener, has the lowest calorie content. Most artificial sweeteners are calorie-free, but could carry side effects.
If you wonder how to choose best sugar alternatives, consider their antioxidant value.
Why?
Over time, the toxins in food, water, air, cosmetics, and everyday products build up in your system, causing a myriad of problems. Premature aging, eczema, rashes, sluggish digestion, slow metabolism, and fatigue are common side effects. These chemicals cause DNA damage, affect your hormonal balance, and weaken your immune system.
They also reduce your body's ability to fight diseases and heal itself. Sugar consumption only makes things worse.
How can we protect ourselves?
One of the options is to eat enough antioxidant-rich food. Antioxidants guard the body from damage caused by oxidants like free radicals (unstable molecules). There are a lot of free radicals in the environment and in our body.
Raw honey, dark brown molasses, maple syrup, and other natural sugar substitutes boast a high antioxidant value, leading to improved health.
A study published in the Journal of the American Dietetic Association has compared the antioxidant levels in popular natural sweeteners.
It appears that date sugar, blackstrap molasses, dark molasses, barley malt syrup, dark brown sugar, and pure maple syrup are the highest in antioxidants. These foods can strengthen your body's natural defense mechanisms, neutralize oxidative stress, and slow down aging. Their antioxidant value is similar to that of blueberries and red wine.
Let's take a quick look at the best natural sugar substitutes and their health benefits:
Date Sugar
Date sugar is higher in potassium than bananas and has fewer calories than sugar. Potassium helps maintain your electrolyte balance, regulates blood pressure, and supports cardiovascular health.
Half a cup of refined sugar has 387 calories, while the same amount of date sugar delivers only 288 calories.
Additionally, dates help to restore gut flora, improve digestion, and keep you regular. They are also an excellent source of calcium, iron, phosphorus, copper, and magnesium. Rich in polyphenols, date sugar reduces oxidative damage to your cells and tissues.
Blackstrap Molasses
Blackstrap molasses has the lowest sugar content of all sugar cane products. They also boast high amounts of vitamins, minerals, and antioxidants. With just 59 calories per serving, this natural sugar substitute fits into any diet. Two tablespoons deliver over 19 percent of the RDA of iron, 15 percent of the RDA of manganese, and 10 percent of the RDA of calcium.
Due to its high iron content, blackstrap molasses helps prevent anemia, promotes healthy skin, and relieves PMS (Premenstrual Syndrome) symptoms. This superfood is safe for kids and diabetics and can be used as a natural remedy for ADHD (Attention-deficit/hyperactivity disorder) and ADD (Attention deficit disorder). Dark molasses has similar health benefits.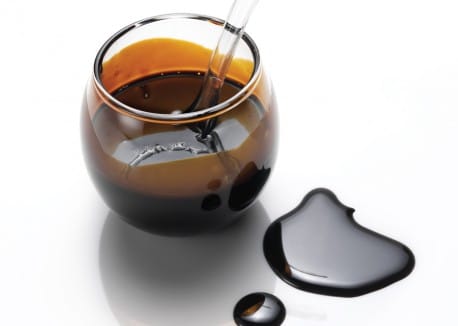 Barley Malt Syrup
This unrefined sweetener boasts a pleasant malty taste and can be used in most recipes. It's a good source of vitamins, minerals, and enzymes, so it can make your diet more nutritious. Even though it's quite high in calories, its benefits outweigh the risk. Barkley malt syrup has been shown to improve bowel health, protect against rickets, and boosts immune function.
Brown Rice Malt Syrup
Made from organic brown rice, this natural sugar substitute is chock-full of minerals and B-complex vitamins. It's ideal for IBS (Irritable bowel syndrome) sufferers and people following a low FODMAP diet.
Brown rice malt syrup contains no fructose and provides fiber, leading to improved digestion. Additionally, fiber slows sugar absorption into your system and prevents insulin spikes.
Pure Maple Syrup
Another excellent substitute for sugar is pure maple syrup. Touted as a superfood, it's loaded with iron, calcium, potassium, magnesium, zinc, phosphorus, and B-complex vitamins. Rich in antioxidants, this natural sweetener fights free radicals and premature aging. The zinc in maple syrup protects against heart disease, stroke, and high cholesterol.
Try to gradually incorporate these sweeteners into your diet. Use them in homemade desserts, tea, coffee, smoothies, and cooked meals. Some are sweeter than others, so you'll need to experiment and see which ones best suit your needs. Once you ditch the sugar, you'll be a lot healthier and have more energy.
On top of that, you'll still be able to enjoy your favourite treats!
Which is your favourite sugar substitute?