Famous prisoner Charles Bronson remains a unique and somewhat mysterious figure in fitness history. Aside from his crimes, which were many, Bronson was known for his aggressive attitude, intimidating appearance, and almost superhuman strength. At times throughout his early life, he was even known as "The Most Violent Prisoner in Britain" as well as "England's Most Notorious Criminal."
So, while Bronson's life of violence, robbery, and crime are the last things anyone should emulate, there is one legacy he left from which many people can benefit.
His super-sized dedication to be strong and fit.
You see, despite doing long stints in prison, where he would have limited access to space or exercise equipment, Bronson was able to maintain a large, muscular physique. How he managed to stay in such good shape during these times has remained largely a mystery.
Until now.
In this article, we'll detail Charles Bronson's unique approach to fitness, and show you how you can benefit from taking a page out of this legendary brawler's book.
Who is Charles Bronson?
Charles Bronson was born Michael Gordon Peterson in the town of Luton, England, just northwest of London. By all accounts, his home life was perfectly normal and full of love. He and his two brothers had a reputation as good kids around the neighborhood.
When he hit his teens, however, Peterson started showing an interest in crime. It started out small. For example, young Michael would get in trouble for the occasional fight or for stealing things with his friends. His petty thievery continued to escalate until he reached the age of 22, when he was sentenced to seven years in prison for armed robbery.
When he was released, the 29-year-old Peterson became a bare-knuckle boxer. He started competing in bouts around the East End of London. Not thinking his given name to be "intimidating" enough, his promoter suggested he change his name to Charles Bronson after the tough-guy American actor (who'd Peterson had never heard of).
Unfortunately for the newly-christened Bronson, his bare-knuckle boxing career would be cut short due to several more stints in prison for robbery. It was behind bars, however, where Bronson would begin to carve out his reputation. Prison guards knew him to behave extremely violently. They noted that he would often take hostages and even cause full-fledged riots. This eventually led to him receiving a life sentence.
However, even with his freedom finished, Bronson found ways to maintain, and even grow, his impressive physique. In time, his strength and stamina began to attract the attention of fitness fanatics from all around the globe. It wasn't long before he started to receive inquiries as to his regimen, diet, etc.
Today, Bronson remains behind bars but has long since given up his violent ways. He has been married three times and divorced twice (all while in jail), and has become an avid artist. In fact, he even changed his name again. This time, it was to Charles Salvador, in honor of Salvador Dali, a favorite artist of his. Though he has spent roughly 40 years in prison, he hopes to overcome his legal troubles and live out the rest of his days a free man.
Embed from Getty Images
A Unique Approach to Fitness
There are a number of things about Charles Bronson that make him stand out in the fitness world. The most obvious, of course, would be the fact that he has been behind bars throughout the majority of his life. That said, Bronson's approach and mindset are also worth taking note of.
As mentioned, Bronson had to make do with very limited equipment and space. It wasn't as if he could just pop down to the gym and start bench pressing. This fact makes his workouts accessible to almost everybody, no matter where they are or what sort of tools they have on hand.
On top of this, Bronson was incredibly dedicated to his body. He even claimed that having superior athletic abilities could have a big effect on your prison experience. In his view, you could get pushed around, beaten up, or killed, or you can stand up for yourself and show people that you're not the type of person to be messed with.
To him, fitness was less about staying in shape and more about staying alive.
This mental dedication seems to explain how Bronson could achieve almost superhuman feats of strength, endurance, and stamina.
The Charles Bronson Workout
If you're the type of person who feels that you don't need to spend a lot of money on equipment to keep yourself in good shape, Bronson's fitness philosophy will most likely appeal to you, as Charles had access to neither during his entire tenure in prison. You also won't need super supplements or anabolic steroids.
In many ways, this workout all boils down to motivation and, ultimately, your passion for fitness.
According to Bronson himself, everyone that sticks to his training routines will find themselves in much better shape in just a few months. His workout is also very easy to follow in terms of the exercises involved, as they mostly consist of bodyweight movements. They are also less focused on building muscle. The workout is more centered on increasing overall strength while maintaining speed, agility, and stamina.
In a lot of ways, Bronson's workout routines could be similar to modern CrossFit.
A close analysis of Bronson's routine reveals two main parts.
1. Prison Yard / Outdoor Routine
It's worth noting that Bronson exercises six days a week. He starts off in the prison yard, where he works out for about an hour. Charles's outdoor routine incorporates mainly the following exercises:
star jumps
sit-ups
dips
pull-ups
bunny-hops
squats
jogging around
stretching
In addition to performing these moves on his own, Bronson will often get help from other inmates so that he could use their weight for added resistance. For instance, he might take a man on his back and jog around, squat with human weight, or even bench press another prisoner. Charles also highly recommends that everyone perform a warm-up before each workout.
Charles has maintained his regimen for decades and claims to love his daily workouts despite the less-than-ideal conditions. The man, quite literally, lives and breathes through exercise.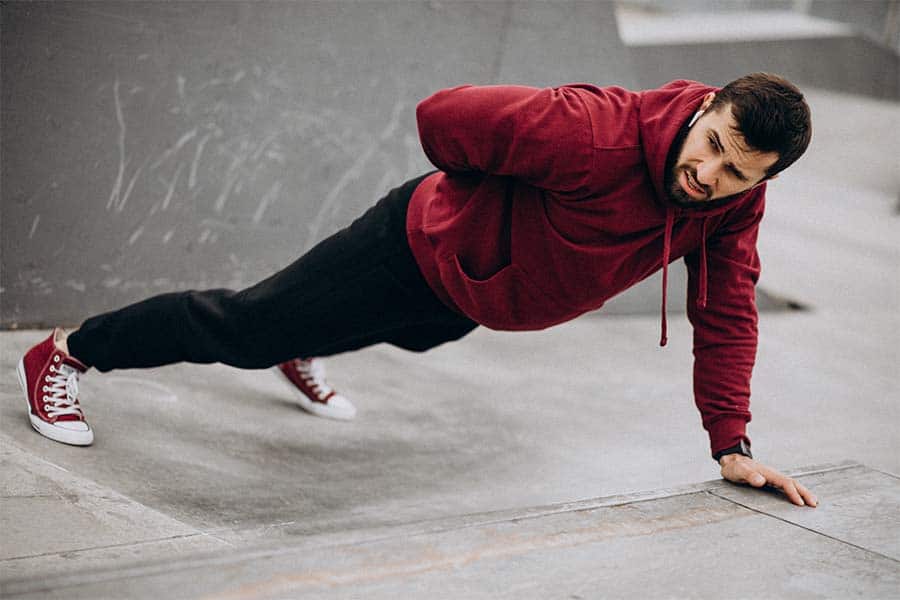 2. Cell / Indoor Workout
The second half of Bronson's workout is performed in his cell. They are short bouts of exercises that he does throughout the day. According to him, he might wake up on Monday morning to his favorite exercise: 100 press-ups performed in a row. He'll then take a short rest before attempting another 50. He'll continue to do more press-ups as the day goes on. On Tuesday, he might do the same with squats, jogging in place, shadow boxing, or other bodyweight movements.
As you can see, there's nothing complicated here in terms of exercise and workout planning. The results are largely related to having a strong commitment and devotion to being fit. This type of dedication is something that we could all benefit from now and again.
What can we learn from Bronson's workout?
Obviously, Bronson isn't the first person to make bodyweight training his main focus. However, he is someone who's pushed the limits of what this type of training can do and where one can actually do it. At nearly 70 years old, he's a testament to how fitness can remain a part of your life regardless of age, available equipment, and living situation.
As far as bodyweight training itself goes, there are a number of unique benefits to be considered:
No gym memberships or equipment
Work out anywhere, or everywhere
Easy to alter the pace or angle to suit your abilities
Very versatile
Burns fat, builds muscle, boosts stamina, and increases strength
With traditional, modern weightlifting, most of us rely on the same trusted exercises, such as:
Military Press (shoulders and triceps)
Barbell Row (upper back and biceps)
Deadlift (hamstrings, lower back, and glutes)
Squat (quads and glutes)
Bench Press (chest and triceps)
Pull-Up (lats and biceps)
However, compare these six exercises with the following bodyweight exercises:
Pike or handstand push-ups (shoulders and triceps)
Australian Rows (upper back and biceps)
Glute Bridges (hamstrings and glutes)
Squats, jumps, and step-ups (quads and glutes)
Push-Ups and dips (chest and triceps)
Pull-ups (lats and biceps)
It's not difficult to see that the targeted areas here are almost exactly the same. Moreover, when it comes to muscle groups like abs, the majority of exercises are already bodyweight-based, which means you don't have to change a thing. Crunches, window wipers, and leg raises, on the other hand, don't require anything more than a bar.
As mentioned, one of the best things about these bodyweight exercises is that it is very easy to scale them to your strength or ability. As most of us know, it's easy to change the angle of our push-ups to make the motion more difficult or to target a different part of your chest.
We can also lift our legs in order to put more emphasis on our upper chest or shoulders. You can keep trying different moves until you ultimately work up to a single-arm push-up.
Bodyweight has everything you need, and it's versatile enough to be accomplished anywhere (even a prison cell).
The Bodyweight HIIT Workout
If you're are seasoned sportsman and are interested in trying out a really intense, bodyweight exercise regimen, you should try HIIT.
HIIT stands for "High Impact Interval Training" and basically refers to short bursts of intense exercise followed by short rest periods. The goal is to take yourself to the height of your limits in order to maximize the benefits of the exercise. It's also a great way to burn a lot of calories in a short amount of time.
Your average HIIT workout might look something like this:
30 Seconds: Push-ups
30 Seconds: Rest
30 Seconds: Squats
30 Seconds: Rest
30 Seconds: Burpees
30 Seconds: Rest
30 Seconds: Crunches
30 Seconds: Rest
In most cases, you'd repeat this four times over. Add in a five-minute warm-up and cool-down, and you have a 30-minute long exercise routine that will really push your body and give you a good sweat.
Bronson's Strength Stats and Records
So, what did all those bodyweight exercises get old Charlie? More importantly, what recommendations does he have to help you follow in his footsteps?
Let's take a look:
Push-Ups
According to Bronson's book, he can do 132 push-ups in a minute. Moreover, he claims to have done 3,000-6,000 push-ups during an entire day at some points in his life. He can also do push-ups with the weight of two men on his back.
In order to reach your first 100, Bronson recommends you start with standing push-ups and slowly lower your level each week as you go. It will take around 12 weeks before you're ready to do your first 100 from the floor.
Bench Press
As they're essentially the same motion and muscle groups, those push-ups translate pretty well into bench pressing ability. In fact, the first time he ever had access to an actual weight bench, Bronson has been able to bench 130 kg (286 lbs.) ten times.
Sit-Ups
Another one of Bronson's personal bests is doing 1,760 sit-ups in a single hour. This doesn't just show off strength, but stamina and endurance as well.
Fighting
In his 50s, Bronson admitted that he could punch a man 20 times in roughly four seconds (five punches a second). Compare this with someone like Bruce Lee, who was rumored to be able to manage around seven hits per second in his prime.
As if that weren't impressive enough, Bronson's punches are remarkably powerful. He has even been able to punch hard enough to break the bulletproof glass. His legs have also been proven to bend heavy prison metal doors with just kicking them.
All of this seems to suggest that Bronson would make a great MMA fighter. With stamina, endurance, and plenty of raw strength (not to mention his "charming" personality), he'd surely be the type to draw a crowd.
Personally, Charles's 110% motivation and good genetic factors for performance helped him gain such impressive results. For the average Joe, it would be very difficult to show the same feats.
Height and Weight
Bronson stands roughly 179 cm (5 ft. 11) and weighed around 105 kg (230 lbs.) at age 54. As far as height-to-weight rations go, this seems to suggest that he's carrying quite a bit of muscle around. A good comparison would be Mike Tyson, who was 178 cm (5 ft. 10) and 99 kg (218 lbs.) in his prime.
Bronson's Diet
Looking at some of Bronson's immersive performance results, you might consider that he has taken some miracle supplements or follow special diets. The truth is that his diet includes typical foods that you might find in prison.
On an average day, his diet would consist of something like this:
Breakfast: oatmeal, eggs, and bread
Lunch: Potatoes, pie, dessert, and beans
Dinner: Bread, stew, and fruit
Charles also prefers to add to his diet some natural sweets like dried fruits and salads. Bronson has commented in the past that he avoids vitamins and mineral supplements and would rather just eat more fruits and vegetables. He also claims that he drinks a lot of water.
For the other folks to stay in a good shape he recommends keeping balance in everyday food intake and energy spending.
Bronson's Legacy
Solitary Fitness
There are many books that have attempted to provide insight into this unique man over the years. One that really focuses on his exercise routine, however, is 2007's Solitary Fitness by Charles Bronson and Stephen Richards. For the most part, it aims to educate people on how to exercise and stay in shape with limited tools, time, and space.
Solitary Fitness includes many sections related to fitness like bodyweight exercises, diet, fat loss, and even tips about cleansing.
On Amazon, this book gets a high review ranking 4 out of 5.
Movie about Bronson
In 2008, Bronson's story appeared on the big screen for the first time, in the aptly titled Bronson. The film starred Tom Hardy and was directed by Nicolas Winding Refn. In order to better understand his subject, Hardy and Bronson met in person, with the latter praising Hardy's ability to bring his "unique" personality to screen in all its glory.
The movie revealed the main facts from Bronson's biography and showed his violent personality. There were many scenes with his fights and hostage-taking. Sadly for us, but I didn't see any episode about his passion for exercising and fitness in general.
On IMDB, the rating for this movie is about 7 out of 10, which is quite good. If you are a keen Charles fan, I suggest you look for it.
The Takeaway
If fitness enthusiasts can take anything away from the story of Charles Bronson, it's what a person can reach when they are extremely dedicated and determined.
The point is, the reason why Bronson could (and still can) perform all these impressive feats is because of how committed he is. He has passion and determination, which is all you really need when you want to accomplish your fitness goals. In his eyes, you need to be consistent if you want to see real results. In the end, the fact that he remained so consistent despite his conditions, his lack of equipment, and everything else, is what has transformed him into a fitness icon.
What do you think about Charles Bronson's training?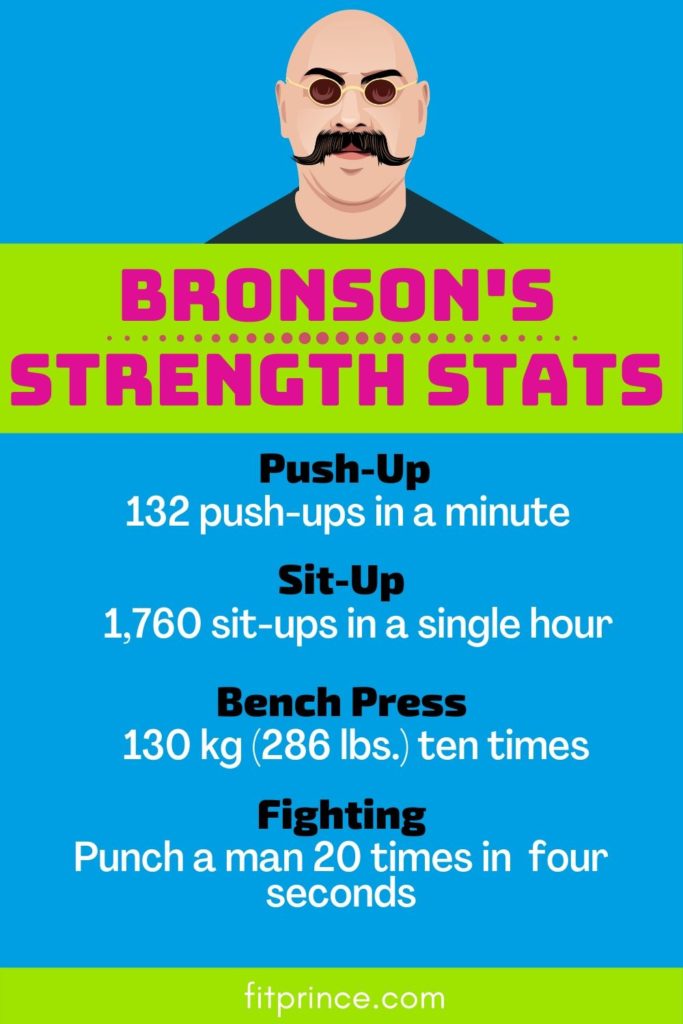 Reference