The push-up is often crowned as the king of chest movements because it is versatile and effective. You can complete push-ups wherever, whenever and alter them exactly for your needs with minimal equipment so you can get a solid chest workout no matter your circumstances.
How to Complete the Standard Push-Up
Before we start looking at the different variations of the push-up, we must first learn to master the original. As we've said, there's nothing that quite compares to the overall efficiency and effectiveness of the push-up and so, understanding the basics is an invaluable tool.
First, get on your hands and knees with your wrists directly under your elbows and your elbows under your shoulders. There should be a straight line that connects each joint together forming a stable base for your upper body.
Next, push your legs back and place your feet so that your toes are the only part touching the floor. Tighten your core by bracing your abs and lower back to create a straight spine. You'll also want to engage your glutes to help with your rigidity and balance. Imagine a string is running from your heels, up through your pelvis, spine, and neck, pulling you into a straightened position. You should be looking at the ground just in front of you.
Now, engage your upper back to retract your shoulders and let your triceps slowly guide you to the floor. Don't go so quickly that you lose balance but equally, going too slow can make the exercise harder than it needs to be and require you to use up more energy than necessary.
Once you're as low as you can go, making sure your back is still straight with your abs, lower back and glutes engaged, use your chest, shoulders and triceps to push upwards back into the starting position. Keep your elbows above your wrists for the whole movement and make sure not to flair your elbows (push them out).
As with any movement, mastering the push-up takes time and patience. You need to make sure your technique is at least 90% correct before moving onto the variations listed below. Once you can complete 30 push-ups in a row, then it's time to move onto bigger and better things.
The 10 Best Push-Up Variations
1. Elevated Push-Ups
The elevated push-up is similar to the incline bench press in that it places a greater emphasis on your shoulders and upper chest. All you need to do is place your feet on a chair or table so that your body is placed in a 45-degree angle.
If you want to make the movement even harder, then you can use a BOSU ball or some sort of other unstable surface to force your muscles to keep you balanced. This creates more of a stimulus and therefore, more adaptation.
2. Plyometric Push-Ups
Plyometric push-ups are a great way to work on strength and power for a more forceful upper body. With plyometric push-ups, you launch yourself into the air so that your hands leave the floor before you land. In order to measure your progress, try to see if you can clap in the middle of the jump. Try to add more and more claps as you go. Some people can even launch themselves so hard that they end in a standing position.
3. Archer/Typewriter Push-Ups
This is a great way to progress into a one-armed push-up. Archer push-ups, sometimes called Typewriter push-ups, involve moving your body to one side so that more weight is placed on the hand. Slowly but surely, you can work your way to taking your hand completely off the floor so that you can complete the entire motion with one arm.
4. Pike Push-Ups (Handstand Push-Ups)
Similar to archer push-ups, pike push-ups are a great way to progress towards a more impressive push-up: the handstand push up. For a pike push-up, you start in a downwards dog yoga position with your hips in the air, legs as straight as possible and palms flat against the ground. From here, you lower yourself down so that the top of your head is as close to the floor as you can before pushing yourself back up. This is a push-up that's far more suited to building shoulder strength than chest strength, but the stimulus upon the triceps remains similar.
Once you've mastered the pike push-up and can comfortably complete 15 in a row, you can kick yourself up into a handstand against a wall. Lower yourself as far as you can go and push back up. At the start, you may not be able to go that low, but with practice and patience, you'll soon be able to completely lower yourself to the ground and complete a full handstand push-up.
5. Knuckle Push-Ups
One of the areas that push-ups do miss out on is the forearms. With nothing to grip, it's hard to build the wrist flexors. However, by doing push-ups with your hands in a fist, then you can build both your grip and your chest at the same time. If you were to couple this with another bodyweight movement such as pull-ups or chin-ups, your grip will improve dramatically.
6. Pseudo Planche Push-Ups
Looking for something a bit harder? The planche is one of the most impressive gymnastic moves there is. Unfortunately, it's incredibly hard to do. The planche is essentially where you get into a plank position, except your legs are off the floor. This means that all your weight is placed upon your arms, shoulders, and chest.
Planche push-ups are a great way to train towards this movement and challenge the upper body even more. All you need to do is start with your hands by your stomach and your fingers pointing down towards your feet. From here, you push yourself up with your shoulders and triceps.
After a while, you can begin to use the standard variations to shake up your planche push-ups. For instance, completing archer planche push-ups.
7. Diamond Push-Ups
These are the most common variation of the standard push-up and hit the triceps harder than normal.
To complete a diamond push-up, simply place your hands at the bottom of your sternum and make a diamond shape with your thumb and index finger. Some people find it easier to overlap their thumbs. It doesn't matter exactly how you do it as long as your hands are placed close together underneath your body. This movement is similar to the close grip bench press.
8. Slider Push-Ups (Superman Push-Ups)
If you're looking for something really hard, then slider push-ups are an excellent challenge. Upon lowering your body, slide one arm out in front of you and then back in as you raise yourself again.
By completing these frequently, you can work towards superman push-ups which is where you complete the entire movement with both arms stretched out in front of you. Slider push-ups are also a great way to work towards one arm push ups.
9. Medicine Ball Push-Ups
These are a great way to test your strength, balance, and stability. As medicine balls are unstable, your muscles need to work harder to keep you in a rigid position.
Medicine ball push-ups can be completed in a number of ways. Some people like to place a ball under each hand whilst others like to place a ball under their feet. Either is fine and will create a different result. As well as this, you can place a medicine ball under just one arm to shift the stimulus onto one side of the body or put both hands on the same ball in a diamond-style to really engage the triceps. Finishing your workouts with three sets of diamond medicine ball push-ups is a fantastic way to really burn out the triceps and force them to grow.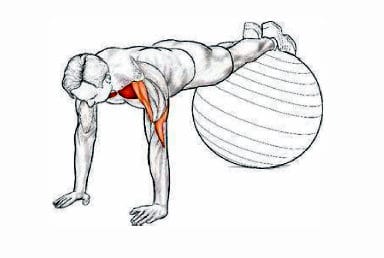 10. Renegade Push-Ups
Lastly, we have renegade push-ups. These require two dumbbells so that you can not only work your chest and triceps, but your back and biceps, too. All in one movement.
To complete a renegade push up, begin in a standard push-up position, but place your hands on the handles of two dumbbells. Come down as you would normally, but then after raising yourself back into the starting position, row one of the weights up to your side. After completing another push up, row the opposite weight up. You can also complete a push-up, row one side and then immediately complete the other side if you prefer. By the end of your workout, your entire upper body will be on fire.
Another benefit of this movement is that it really targets your core, too. The same goes for any of the stability-testing movements such as the BOSU ball or medicine ball push-ups.
Conclusion
As you can clearly tell, the push-up is a fantastic movement that can be adapted to your skill level and needs. No matter where you are, understanding and mastering the push-up and its variations means you can always build your chest, triceps, and shoulders. There are also some specific pieces of equipment for the push-up to make it more challenging or even easier such as 'the perfect push-up' and parallel bars. However, these are unnecessary if you know how to do many of the above variations.
The push-up is just one of many effective bodyweight movements that has a challenging array of variations. Mastering the squat, pull-up, and jump are all key in keeping the body in a good shape without the need for equipment. These four exercises hit every area of the body from the calves to the lats to the abs.
Which is your favorite push-up variation?