Whatever your preferred training style, everyone needs to warm up. One of the biggest mistakes people make is not properly preparing themselves before a workout; and that goes for both your mind and body. Your muscles need to be warm, your joints need to be loose, and your mind needs to be focused. All these come from a proper warm-up routine.
Most people think that warming up is just to avoid injury, so each time they hit the gym without a warm-up and don't get injured, they think "what's the point?" In fact, a warm-up may not only be important for preventing injury, but it's also important for your performance. Not only will you get more out of the workout, leading to better muscle gain and fat loss, but making every step to avoid injury means that you'll be able to exercise for longer. Injuries aren't just something everyone gets and therefore, there's no point trying to avoid them, you can dramatically reduce your chances of injuries by properly preparing your body prior to any strenuous activity. Injuries also set us back for days, weeks, months or in the worst cases, even years. This obviously means that we can't work out, but it means that we can't progress towards our goals.
What Does a Warm Up Need to Do?
A proper warm-up needs to answer yes to the following questions:
Does it have movements specific to your workout?
Does it mentally prepare you for the workout?
Does it include dynamic stretches?
Essentially, a warm-up needs to prepare you both mentally and physically for the workout you're about to do. There's no point spending 20 minutes warming up your arms if you're doing a leg session, and there's no point focusing on mobilising your hip joint before hitting some sets on the bench. Your warm-up needs to be effective at, well, warming you up, but also specific for your needs. This means that there are exercises you should be doing, but also exercises you should avoid.
What's Involved in a Warm-Up?
OK. So, now you understand why you need to do a warm-up and that it needs to be specific, but the next step is figuring out what's involved.
Dynamic Stretching
If you ask most people what they think is involved in a warm-up, they'll reply with one thing and one thing only: stretching. The majority of casual gym goers seem to think that a good warm-up consists of a 5-10-minute blast on the treadmill followed by some static stretching. Whilst both can be beneficial, do you really think your muscles are going to get 'warm' by being still and stretched?
Now, there are actually two different ways of stretching: static and dynamic. The former refers to what's normally meant by the term stretching and simply means lengthening the muscle whilst remaining still. For instance, when you sit down, spread your legs, and try to touch your toes. None of your body is moving but you can still feel a stretch in your muscles. Dynamic stretching is where you use movement to stretch the muscles. This means things such as swinging your legs forward and back, completing deep lunges or moving between the 'cat' and 'cow' yoga poses for the lower back. All these actually involve some degree of movement to both lengthen your muscles whilst warming them up as well as your joints. Dynamic stretching is best prior to your exercises session as part of the warm-up whilst static stretching is better after a workout to calm you down and help prevent against DOMS (Delayed Onset Muscle Soreness). In some cases, static stretching done before a workout can actually hinder your performance and increase your risk of injury, the direct opposite of what you want from a warm-up.
Special Warm-Up
The next aspect that's involved in a warm-up is mimicking the movements that your body is about to undergo. Try to think of it this way. If you wanted to get really good at boxing, then you're not going to spend all your time running. Sure, running might improve your cardio which can help with your boxing, but the majority of your time should be spent throwing punches, learning how to block, and actually being in the ring. Think of your warm-up as a mini-training session prior to your actual working session. If you're going to be doing some heavy squats, then bodyweight squats should be involved in your warm-up. If you're going to be bench pressing, then you'll want to do some push-ups. If you're deadlifting, then doing some light, controlled sets of kettlebell deadlifts are a good idea.
Foam rolling
Another good idea is to use some form of foam rolling. Foam rolling can help to remove aches and pains which might get in the way of your training session. At the same time, it helps to lengthen and loosen your muscles so you can complete a larger range of motion throughout your workout. This means that you can get more from your workout than you previously would and feel more comfortable whilst you do it.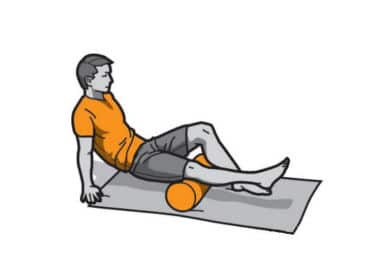 Cardio
You can include some form of cardio in your warm-up as well. A lot of people can make the mistake of overdoing cardio prior to their workout. Cardio can be conducive towards an effective workout, but if overdone, it can weaken your muscles and leave you fatigued. You want to do enough cardio to get the blood directed to your muscles and joints, leaving them more able to exercise, but not so much that they end up tired and hinder your performance.
Example Warm-Up
Here are two example routines for the upper and lower body to complete prior to your working session:
Upper Body
Arm circles
Band pull-aparts
Overhead stick rotations
Dumbbell external rotations
Hanging scapula retractions
Light bent over rows
Lower Body
Leg kicks forward and back
Leg kicks side to side
Waking lunges
Bodyweight squats
Bodyweight calf raises
Knee to chest
You can add some foam roller exercises as well.
Final Thoughts
In summary, the best warm-up exercises will be those which are specific to both your workout and your needs. There's no point following someone else's warm-up, as although there may be some crossover, they'll have different goals and needs to you. Your warm-up should help to prepare both your mind and body for the workout ahead by getting blood flowing and mimicking the movements you're about to do.